2021 First Responder of the Year Deputy Wayne Blanchard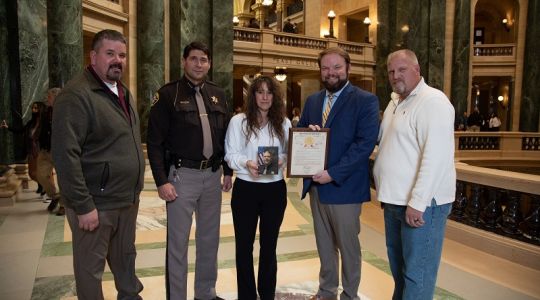 First Responder of the Year: Sheriff Deputy Wayne Blanchard
Representative August recognizes heroism of Deputy Blanchard during ceremony at State Capitol.
MADISON…Walworth County Sheriff Deputy Wayne Blanchard was recognized as First Responder of the Year during a ceremony held at the State Capitol on Tuesday. Deputy Blanchard was nominated by State Representative Tyler August (R-Lake Geneva) for his selfless actions serving the residents of Walworth County. WCDSA President Craig Konopski, Sheriff Picknell, Deputy Blanchard's wife, Angela, and WCDSA member Chris Such accepted the award on his behalf, while he recovers from his injuries.
"The residents of our state are safer due to the actions of Deputy Blanchard," said August. "We are humbled by his selfless sacrifice and wish him a continued speedy recovery."
On the evening of August 1st, 2021, Walworth County Sheriff Deputy Wayne Blanchard put himself in harm's way to attempt to apprehend a suspected impaired driver. The driver was traveling over 60 mph in a 25 mph zone, reaching speeds of over 100 mph. With disregard for his own safety, Deputy Blanchard attempted to deploy road spikes to stop this reckless driver. In the course of these actions, Deputy Blanchard was struck by the automobile and seriously injured. Deputy Blanchard continues to be hospitalized for these injuries and has a long road to recovery. No other individual was injured due to the deputy's selfless actions.
"Every day in my entire career, I have proudly put on my uniform knowing I'm going to do my utmost best to protect all the citizens and those visiting Walworth County," said Sheriff Deputy Blanchard. "I also promised myself that I would do my best to make sure my fellow colleagues would make it home safe to their families at the end of the shift. I am very honored and blessed to receive this first responder of the year award. Thank you."
Deputy Blanchard has served the Walworth County Sheriff's office with distinction for the last 20 years. He has received many awards including the Lifesaving Award and the 2010 SWAT Officer of the Year. Before joining the Sheriff's office, Deputy Blanchard served in the Burlington Police Department and the US Marine Corps. In addition to being an outstanding husband, son, father, grandfather, friend and colleague, he has volunteered for local organizations including the Blue Knights & Special Olympics.
Along with providing award recipients with a legislative citation recognizing their achievement, the State Assembly also passed a resolution declaring October 28th First Responders Appreciation Day.